YEO recreated an intriguing kitchen space in a Victorian house in Surrey. The design's centerpiece is a large island made from Caesarstone 5031 Statuario Maximus worktops, which cascade down to the floor in a "waterfall" fashion. It's a sight to behold.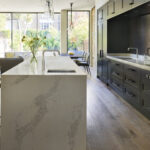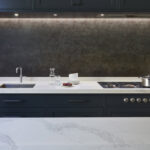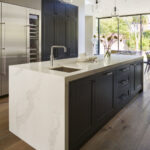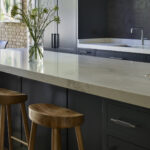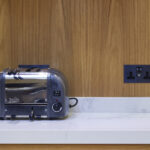 Designer: YEO
A family of four from Surrey joined hands with YEO, the esteemed kitchen & furniture design studio, to recreate their home's ground-floor kitchen. After removing an interior wall, the stage was set for more light to enter the new kitchen space, while a rear extension made room for an array of inspiring design elements. One such design element is the kitchen's new island, which stands beside bespoke oak cabinetry, a dark stone splashback and impressive Gaggenau appliances.
While working on this project, YEO played with material and color contrasts to create a deep and meaningful design effect. The cabinetry was painted with a dark semi-matte paint, which, along with the dark stone splashback, created a beautiful distinction against the island's white and elegant monolithic finish. The effect was finalized with the abundance of natural light cascading through the windows.
Part of what makes the kitchen's waterfall island so memorable is the choice of surface. The family selected Caesarstone's Statuario Maximus quartz worktops for their kitchen's centerpiece, due in part to its light color and dreamlike grey veining. The veins' dramatic effect is enhanced by the contrast between the worktop's white finish and the kitchen's dark cabinetry.
The Statuario Maximus quartz worktops were also chosen due to their strong durability. This surface offers heat and scratch resistance that make cooking so much easier. It may resemble a marble finish, but Statuario Maximus is all quartz strength.
There is no doubt that this kitchen stands out in contrast to most modern designs. It is a truly unique creation brought to life by a blend of vision, expertise and a wonderful aesthetic style. Draped in natural light, the kitchen's design elements work together to form a delightful space – and Caesarstone's Statuario Maximus worktops are central to the kitchen's warm and inviting look & feel.
"The Statuario Maximus quartz worktops were fitted to create a waterfall island whereby the material is carried down to the floor to stunning effect."
James Yeo, Co-Founder, YEO
The Project's Shining Star
5031

Statuario Maximus

Quartz

Classic elegance of a feathered dove-white base, contrasted by broad light-grey veins in an elongated clouded movement that is absorbed deep into the surface, like mist.
Your project, on center stage.
If you've used our surfaces to design a space you're proud of, and want to display your project in our project gallery, please email all project images, details and credits to: [email protected]
You may also be interested in: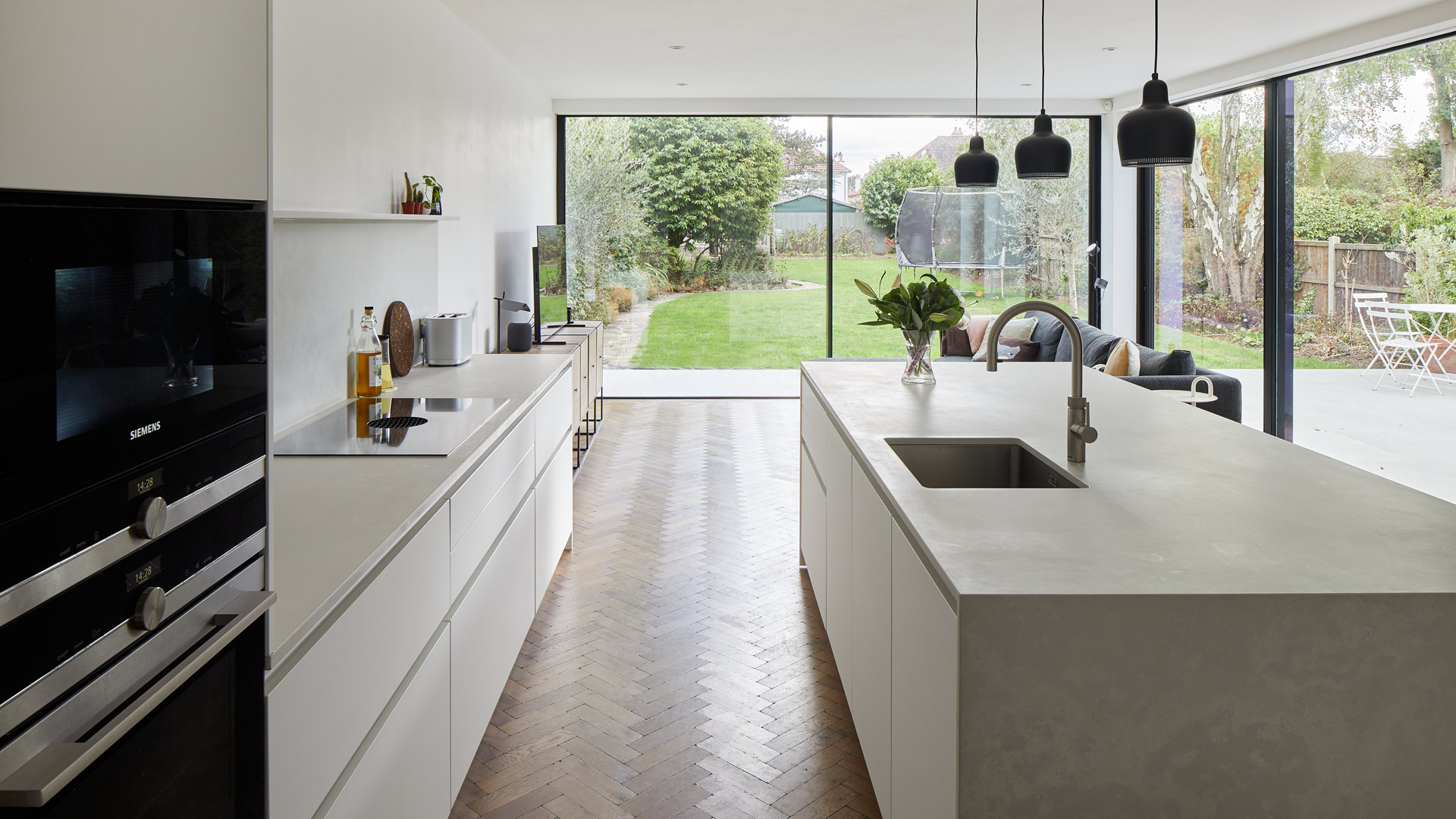 Designer: Piqu, Photographer: Chris Snook Photography