Wish to see what a beautiful 'White on White' kitchen looks like? With designer Adrian Graves from Piqu, a Beckenham family selected Caesartone's Cloudburst Concrete worktops to paint a transcendent kitchen palette using creamy and white shades.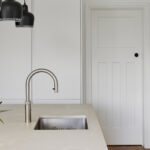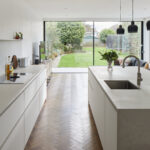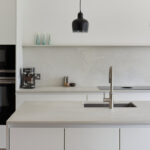 Designer: Piqu, Photographer: Chris Snook Photography
After renovating their home and adding a rear extension, a family from Beckenham looked forward to enjoying a new kitchen that highlights functionality while maintaining a minimalist yet beautiful design. The family envisioned a kitchen space that would be ideal for family get-togethers and hosting friends.
The kitchen's design was placed in the capable hands of Adrian Graves from Piqu, who immediately identified a major challenge: a somewhat limited available space. Focusing on comfort, Graves felt it was imperative to ensure a harmonious relationship between the kitchen elements. Among other things, this meant making sure that the kitchen island – which serves as a boundary between the kitchen and seating area – does not over-extend.
Early on during the process, the family envisioned a kitchen scheme dominated by dark tones. But after falling in love with a light cabinetry, they realized that light colors could provide a sleeker and more luminous look.
The choice to "go light" was reflected in the selection of light grey Cloudburst Concrete worktops, which helped create a 'white on white' kitchen that is anything but dull or simplistic. On the contrary, the kitchen's light aesthetics create a subtle sleekness that sparks the imagination. At the center of the kitchen's "light" revolution is the Cloudburst Concrete worktop, a prominent fixture of the Caesarstone Metropolitan Collection. This collection, which is inspired by patinaed materials such as concretes and cements, is known for its unpolished beauty and rough industrial appeal. While connecting with the unique aesthetics of Cloudburst Concrete, the family also chose a Caesarstone worktop for its trademark durability. They knew their chosen worktop would be easy to clean, and were confident that its beautiful finish would continue to shine over time.
Graves was ultimately able to craft a beautiful kitchen that beams with character. It is not only cleverly designed, but also ideal for a family that loves to spend time together in a kitchen surroundings. Caesarstone's Cloudburst Concrete is an integral part of a kitchen that is filled with character, and yet provides a sense of space and feels light on its feel.
"The client wanted something that would work well with the light-coloured kitchen furniture but still add character to the space. Caesarstone's Cloudburst Concrete was the perfect option, as it added texture and interest whilst still keeping the overall look light and sleek."
Adrian Graves
The Project's Shining Star
4011

Cloudburst Concrete

Quartz

Soft swells of pure white that veil a clear, creamy base, for an infinitely beautiful surface that echoes the uneven aspects of fresh cement deepened by a textured finish.
Your project, on center stage.
If you've used our surfaces to design a space you're proud of, and want to display your project in our project gallery, please email all project images, details and credits to: [email protected]
You may also be interested in: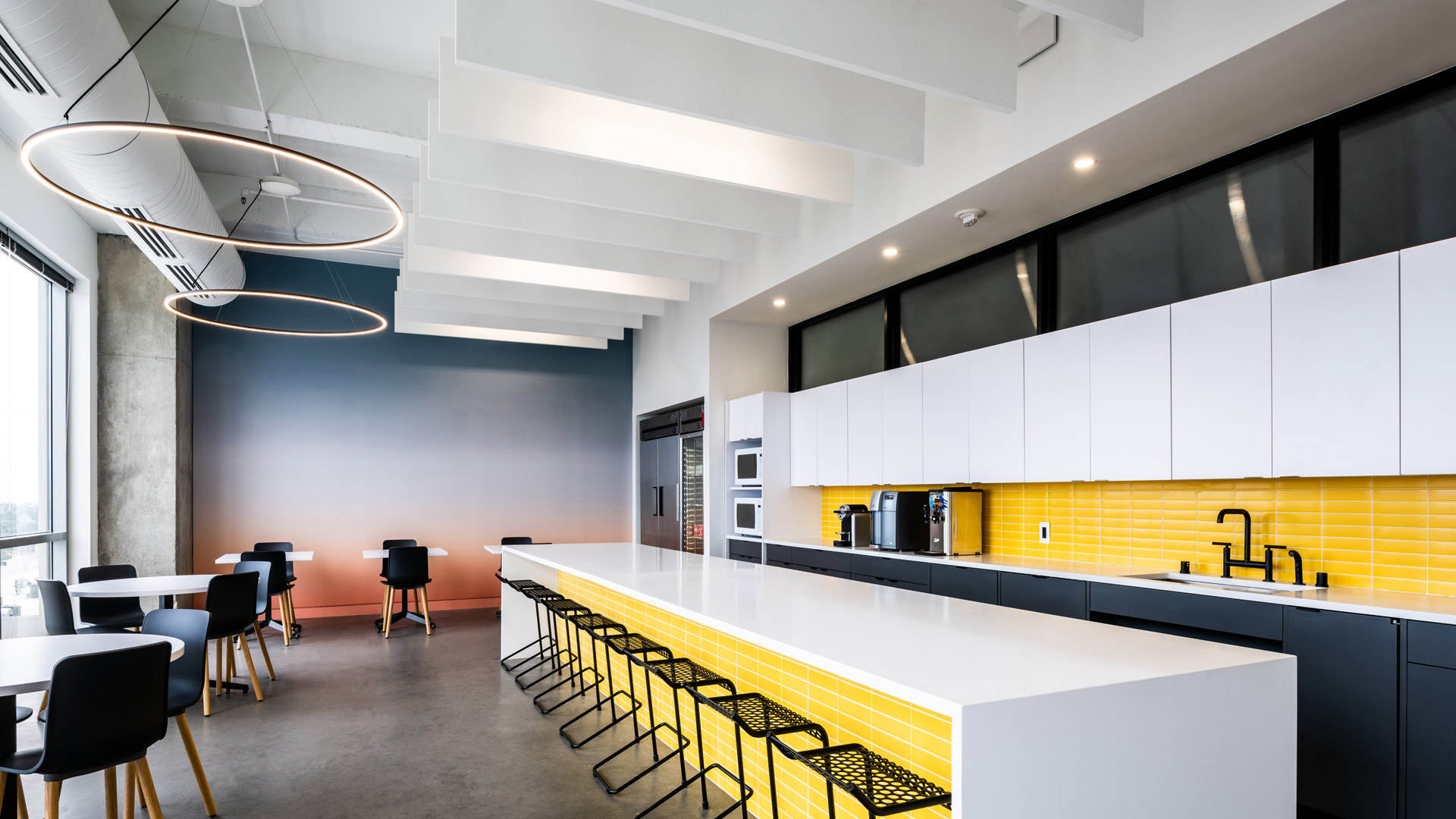 Architect: Official Design Amy Laveno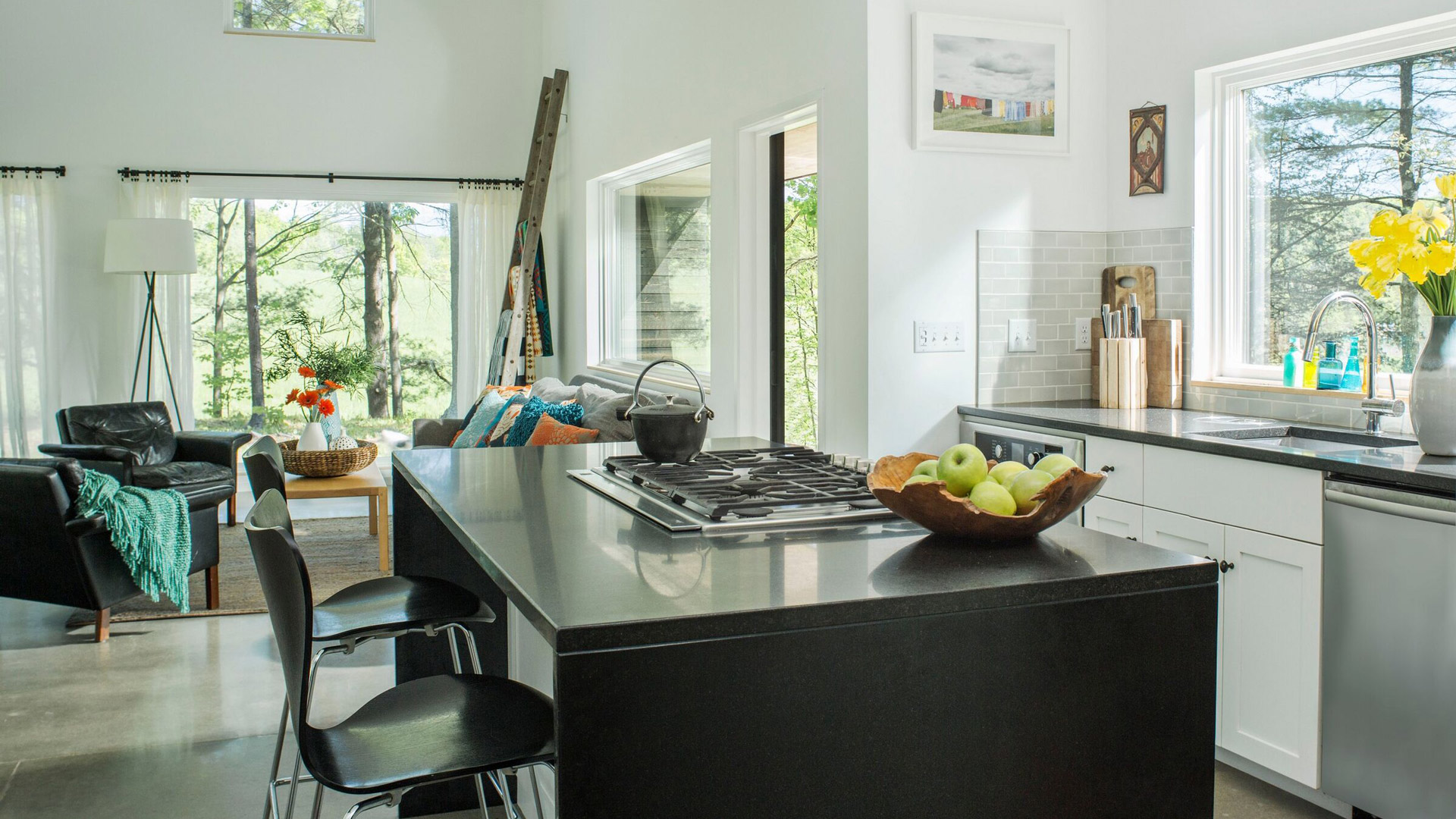 Architect: Elizabeth Herrmann, Designer: Elizabeth Herrmann, Photographer: Westphalen Photography
Architect: Guggenheim Studio