Working with an abundance of interior space and exceptional outdoor views, Audus Kitchens crafted a modern kitchen that is both sophisticated and elegant. Read how these expert designers realized their vision and how Caesarstone Airy Concrete proved to be a natural choice for the kitchen's worktops and large central island.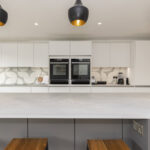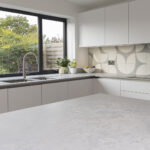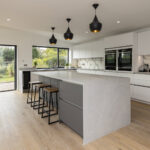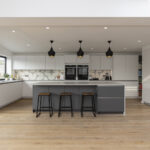 Designer: Audus Kitchens
Audus Kitchens was tasked with the goal of transforming a large kitchen space into a modern kitchen that is highly multi-functional. The result was a kitchen that offers a perfect balance between ample space, beautiful garden views and modern minimalism. Occupying the center of the kitchen is a large island with a Caesarstone Airy Concrete surface, which corresponds with matching Airy Concrete worktops.
Audus sought out to achieve a highly original modern look for this kitchen. Using Nobilia cabinetry and Touch units with an Alpine White finish, the design team created an elegant contrast with the Stone Grey island. To finalize the contemporary design, Caesarstone 4044 Airy Concrete quartz worktops were selected and deployed in 'waterfall' fashion on one end of the island.
An integral part of Caesarstone's Metropolitan Collection, Airy Concrete offers a light grey tone and a very modern rough concrete finish. The surface radiates minimalism, while also offering a highly appealing textural depth. It's no wonder Audus Kitchens and the client selected Airy Concrete for the kitchen's worktops, as well.
Every kitchen is a sum of its elements, but some kitchens – especially this one – equal more. This contemporary kitchen is an elegant blend of white and grey tones, which blend perfectly with the outdoor garden views. Audus Kitchens were able to form a space that is a joy to look at and an even greater joy to cook, eat and socialize in.
"We chose the Airy Concrete from Caesarstone primarily for the natural look. It fitted perfectly with the rest of the interior design creating a very modern style."
John Lindsey, Director, Audus Kitchens
The Project's Shining Star
4044

Airy Concrete

Mineral

An airy feel to real concrete in full movement, swirling with clouds of darker hues and white flashes, over a deeply textured surface that is refined for the home.
Your project, on center stage.
If you've used our surfaces to design a space you're proud of, and want to display your project in our project gallery, please email all project images, details and credits to: [email protected]
You may also be interested in: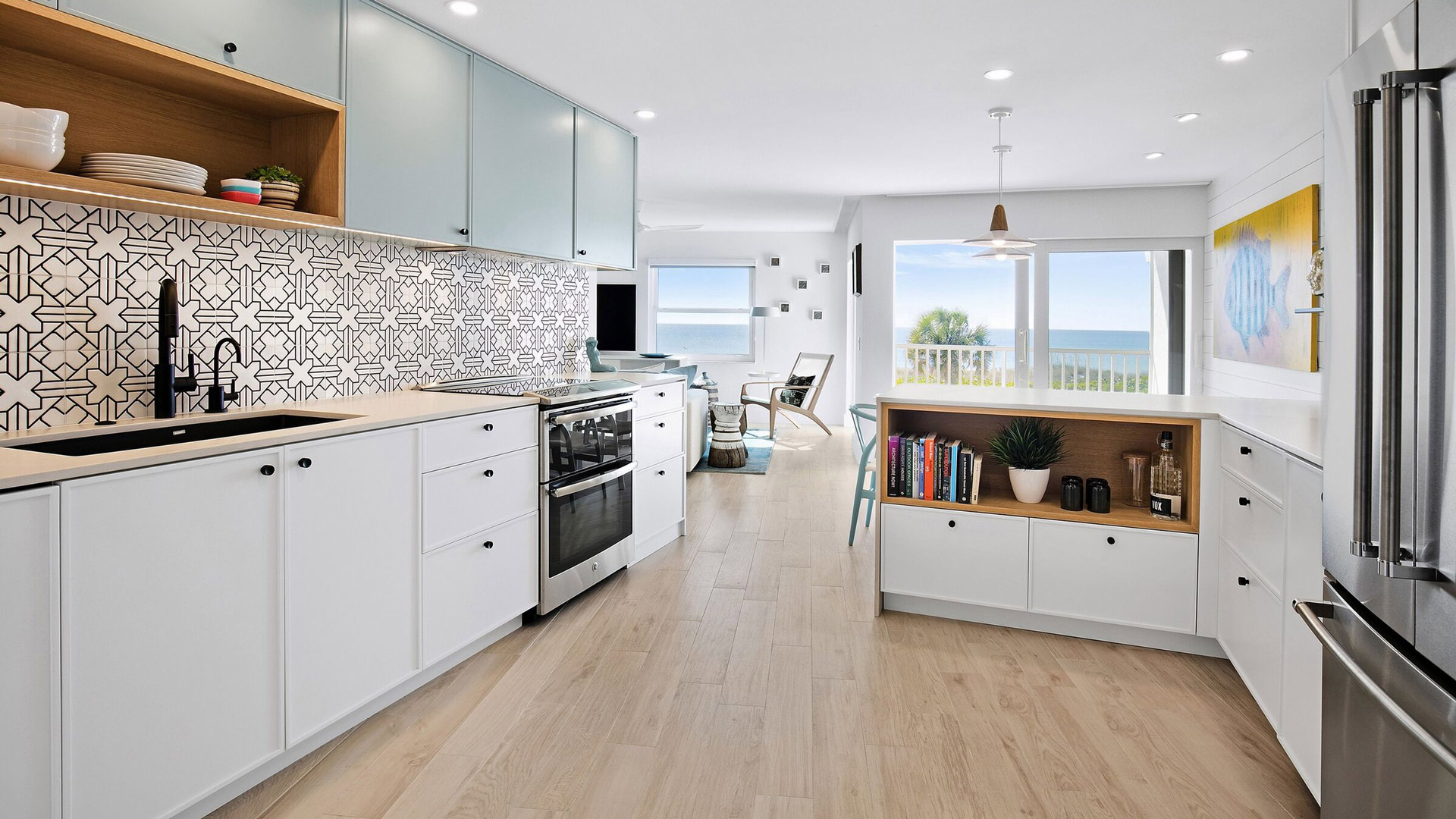 Architect: Leader Design Studio, Designer: SAWA Design Studio, Photographer: Ryan Gamma
Designer: Sarah Awkisombe; John Lewis of Hungerford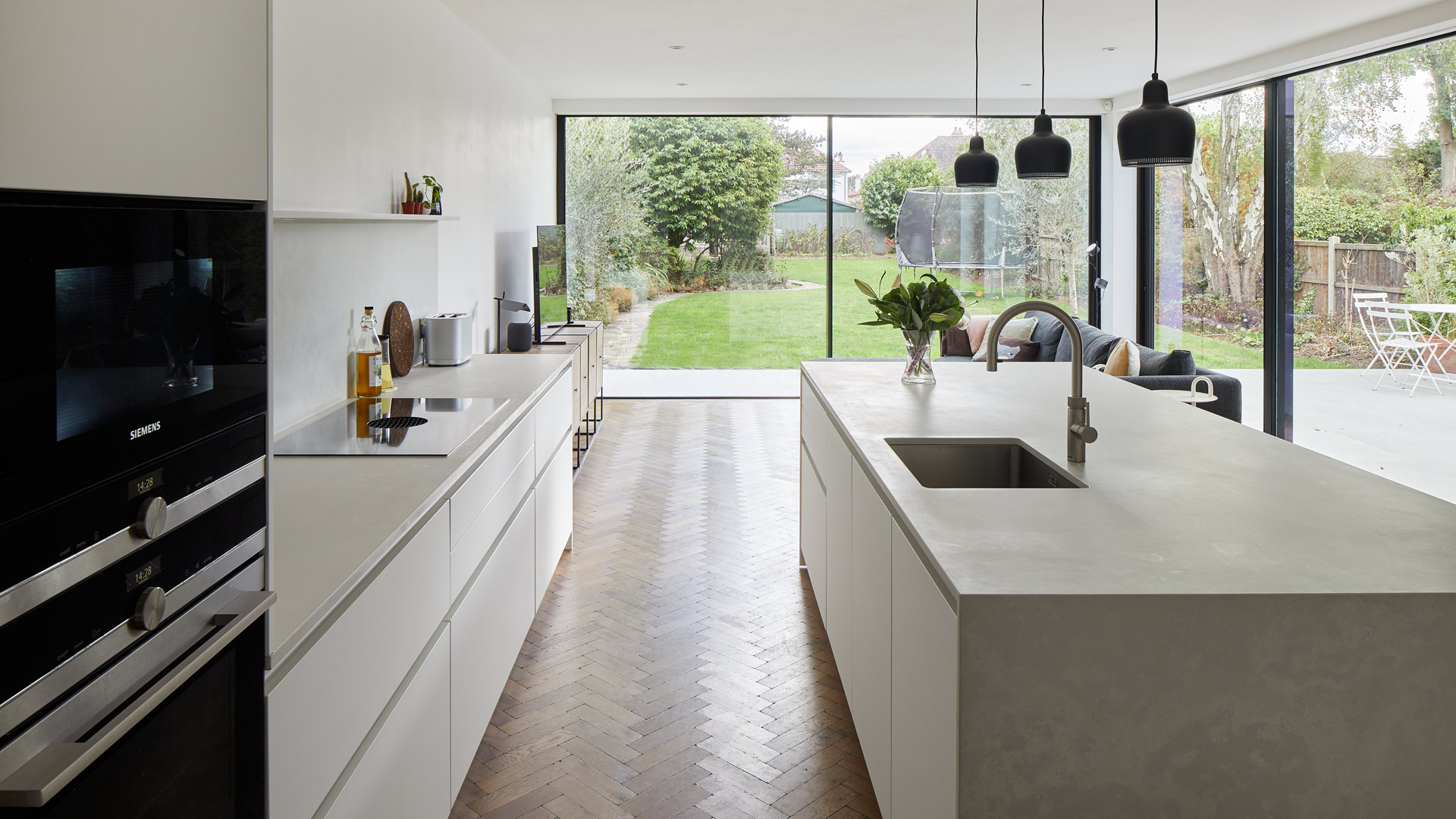 Designer: Piqu, Photographer: Chris Snook Photography