A high-tech design by Kitchenology characterized by a unique layout, multiple levels, and "floating" islands finished in stunning Caesarstone 4120 Raven quartz countertops helped to create an intriguing contrast between gravity and weightlessness, making a family's dream kitchen a reality.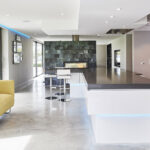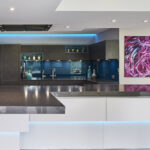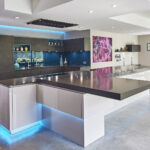 Designer: Kitchenology
The owner of a Suffolk home had a unique vision for the design of this family house. The ground-floor kitchen, in particular, was viewed as a key feature that must lead by example. From the owner's perspective, the kitchen is a functional place where the family can get together, but also needs to be bold from a design standpoint.
Working with designer Jennifer Shaw from Kitchenology, a dark industrial design theme was chosen to make a strong design statement. Alongside the central theme, it was clear to Shaw that the kitchen's island was one of the main components that would allow her to bring the owners' design vision to fruition.
Not often does one come across a kitchen island like this one. Shaw designed a multi-level island dominated by dark and light tones, which features Caesarstone 4120 Raven quartz worktops. Two worktop thicknesses were chosen to create the island's unique and memorable shape, which makes it appear as if it is 'floating' above the floor.
Caesarstone 4120 Raven quartz was a perfect fit for this ambitious project. First, Raven quartz slate grey blends right in with the kitchen's color palette. Secondly, Raven quartz offers a strong grounded texture that contrasts the floating effect that Shaw was looking to achieve. This contrast helps create a kitchen environment that is dramatic and exciting.
Speaking of contrasts, this kitchen's design is further elevated by the elegant contradiction between Caesastone's Raven quartz and the island's light grey units and grey-stone cabinetry. It is modern design at its absolute finest.
In order for exciting and interesting design to truly stand out, it must be based on simple elements. Jennifer Shaw did an outstanding job of blending contrasts, unique shapes and multiple levels to form a design that speaks in a clear and cohesive language. Both designer and owner were very happy with the outcome.
"I am pleased that all the elements incorporated have worked in the overall scheme."
Jennifer Shaw, Design Director, Kitchenology
The Project's Shining Star
4120

Raven

Quartz

A play of light on smoky-slate greys, delicately blending a two-toned surface slightly dappled for a dramatic effect.
Your project, on center stage.
If you've used our surfaces to design a space you're proud of, and want to display your project in our project gallery, please email all project images, details and credits to: [email protected]
You may also be interested in:
Design Story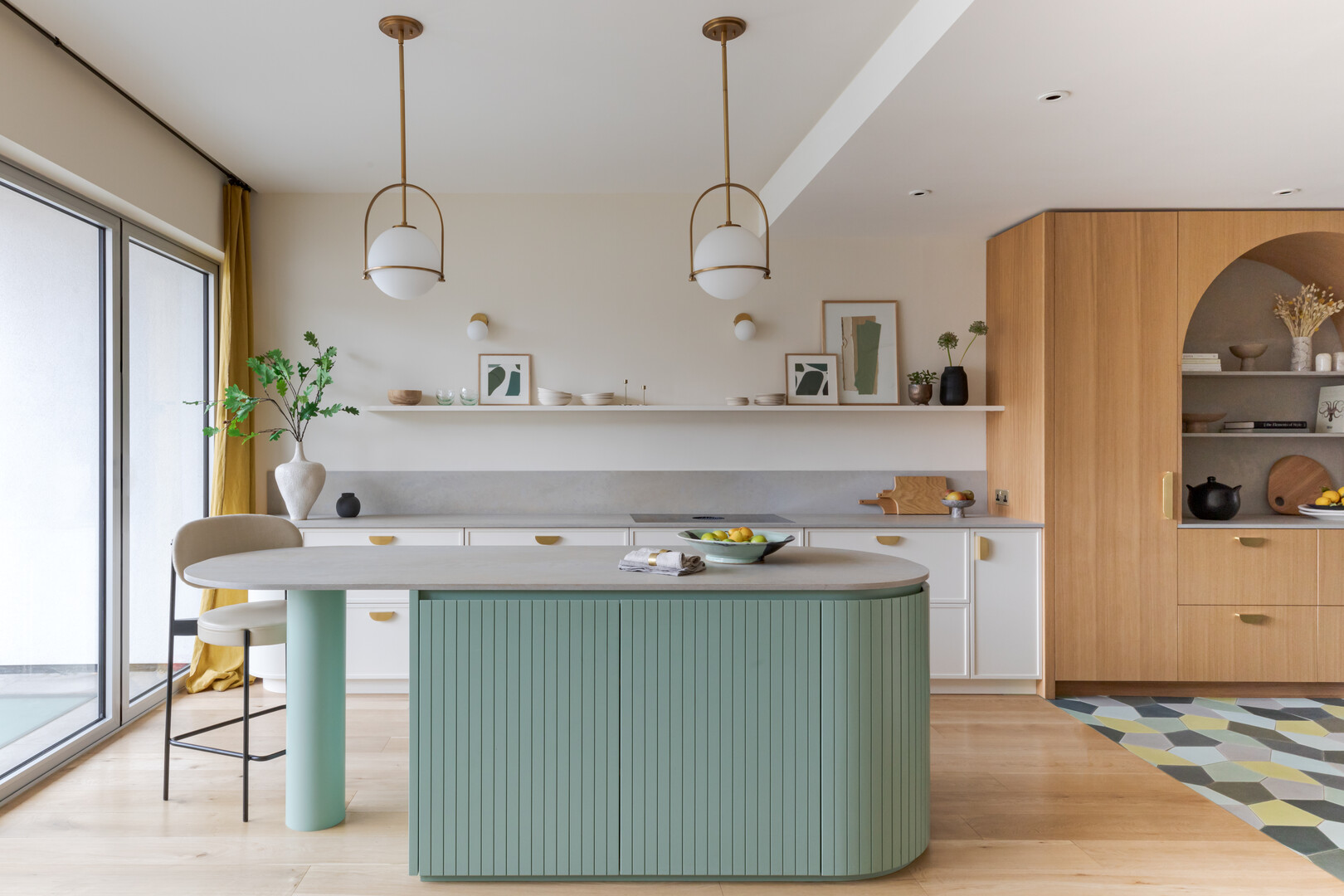 Architecture: Kasia Piorko | Kate Feather Kitchens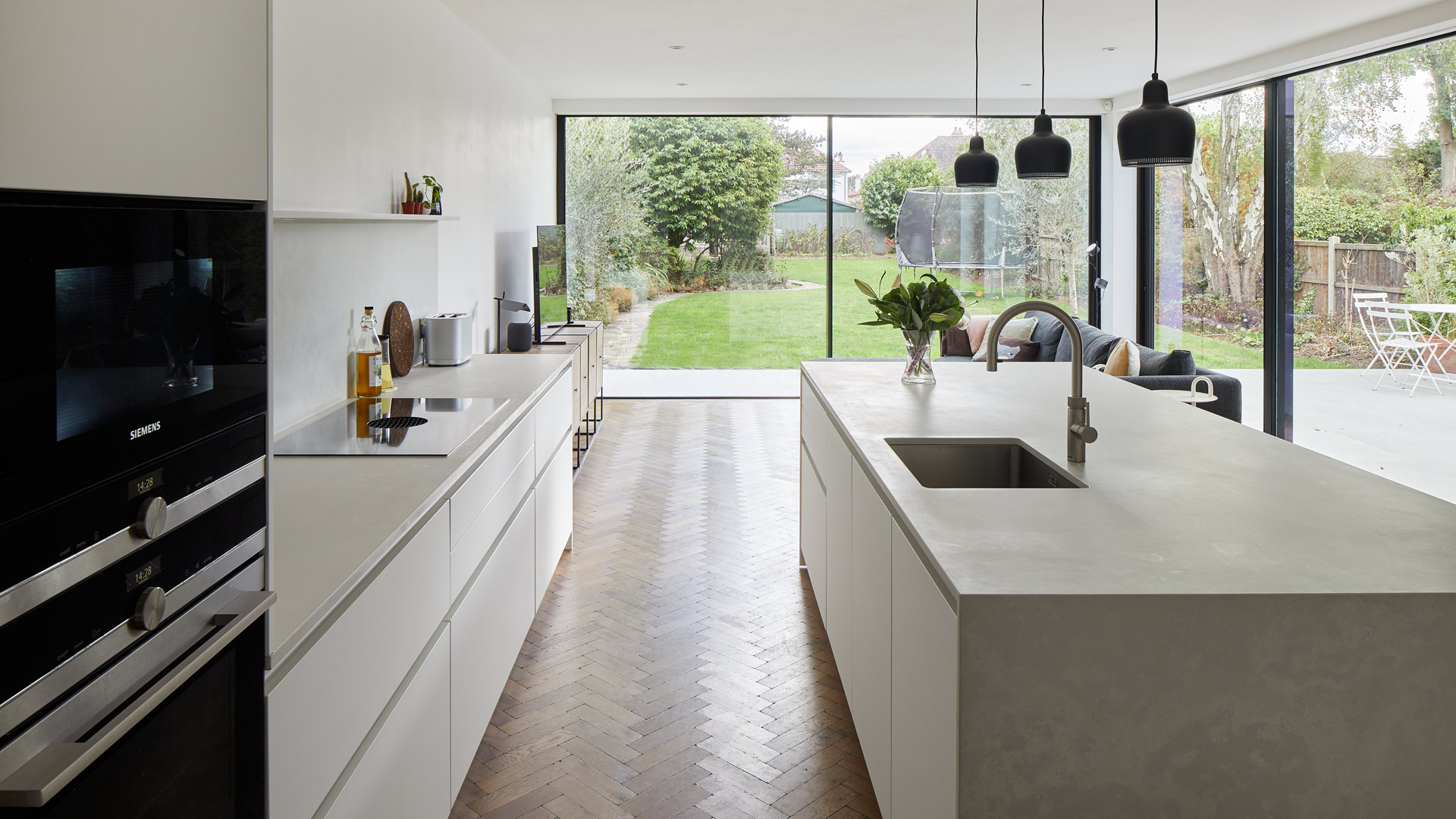 Designer: Piqu, Photographer: Chris Snook Photography