Redesigning her art deco kitchen, award-winning interior blogger and stylist Sarah Akwisombe channeled her creative passion for coming up with cobalt and pink cabinetry, a stone terrazzo backsplash, and black & white flooring. Read about Sarah's new take on the modern kitchen – and see how Caesarstone's 4003 Sleek Concrete integrates seamlessly with eclectic and highly original design elements.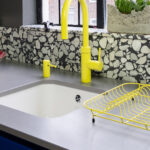 Designer: Sarah Awkisombe; John Lewis of Hungerford
Sarah, an award-winning interiors blogger and stylist, and her husband Jason bought an art deco apartment built in 1931. This apartment is their first home; when they first stumbled upon it during their apartment hunting, they were able to see beyond its outdated design and understand its untapped potential. It was a space waiting for exciting change.
Once Sarah and her family moved in, they remodeled the apartment. But they kitchen was remodeled in "stop gap" fashion, and in 2019, five years after the initial renovation, Sarah felt it was time to unleash her creative powers.
Sarah wished for the galley-shaped kitchen to reflect her family's unique style. Selecting John Lewis of Hungerford as a design partner, the team abandoned all norms to stay true to an authentic vision. The results were as follows: cabinetry colored in cobalt blue and bold pink, complemented by a custom-made stone terrazzo used as a backsplash. Yet to make everything work together in perfect unity, the design required just the right worktop surface.
For the kitchen worktops, Sarah selected Caesarstone's 4003 Sleek Concrete – a highly refined surface that doesn't steal any of the spotlight. 4003 Sleek Concrete is part of Caesarstone's Metropolitan Collection, and is memorable due to its matte grey concrete design.
A subtle and effective aesthetic choice, 4003 Sleek Concrete wasn't chosen solely for its visual and tactile characteristics. This surface is optimal for an action-filled kitchen, and in Sarah and Jason's home everyone cooks – including their daughter.
One look at the Akwisombe family kitchen, and the message is clear: this is where creativity lives. But the kitchen's ingenious design works so well due to the simple aspects that hold everything in place. This includes handle-less cabinetry, smart storage space, and the 4003 Sleek Concrete worktop.
"The installation did take time; the initial work was about 4 weeks and then there were trips back and forth to sort out the gorgeous Caesarstone worktops and stone for the backsplash. The kitchen cabinetry on top of which the stone would be installed needed to be templated first and consequently the stone was cut to fit the spec. So, it does take longer than any other big buy but boy is it worth it! The Sleek Concrete Caesarstone worktops are absolutely stunning".
Sarah Akwisombe
The Project's Shining Star
4003

Sleek Concrete

Quartz

The finest-grained grey that is enriched with a shade of white,
for the perfect industrial ambiance.
Your project, on center stage.
If you've used our surfaces to design a space you're proud of, and want to display your project in our project gallery, please email all project images, details and credits to: [email protected]
You may also be interested in: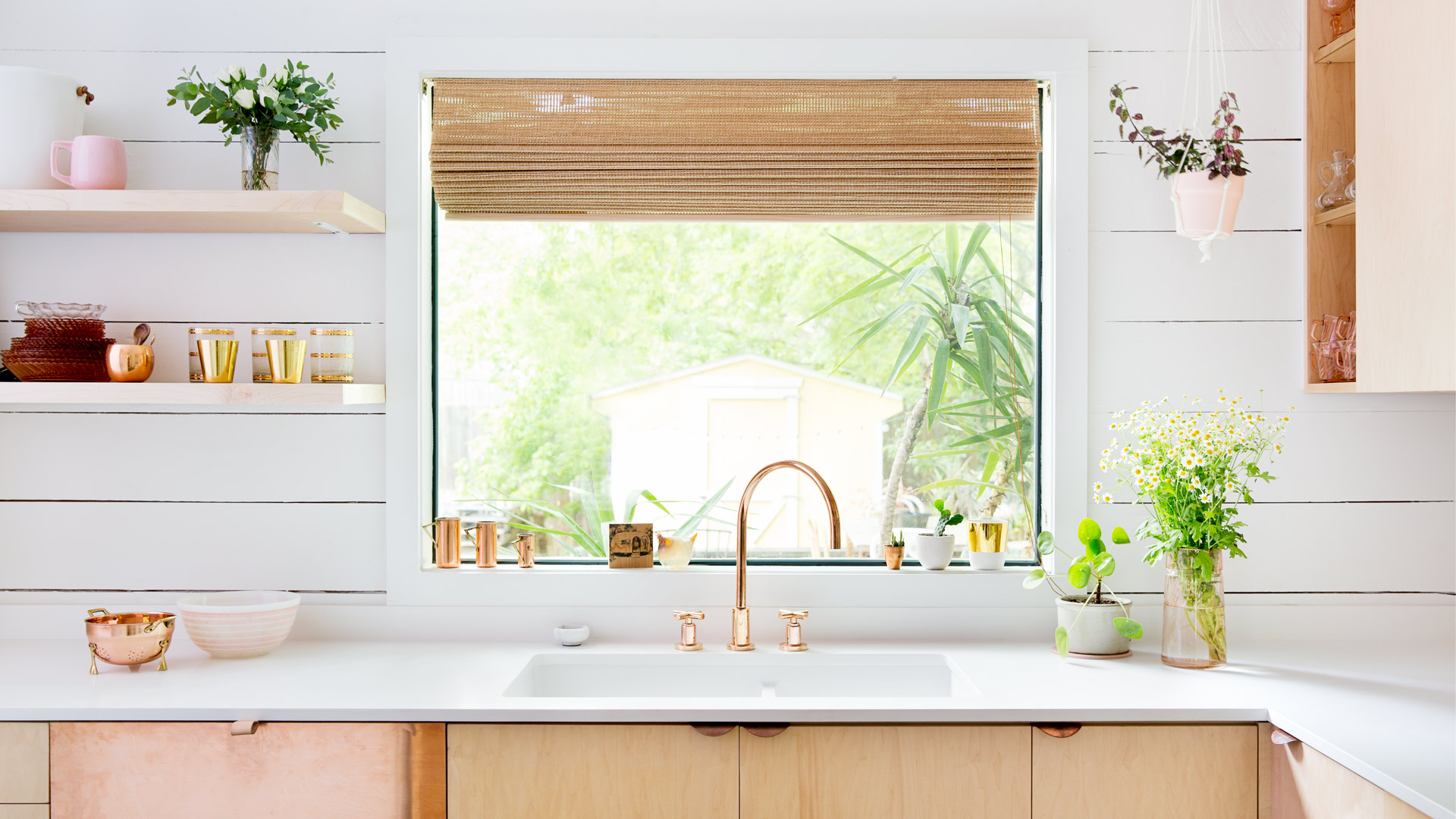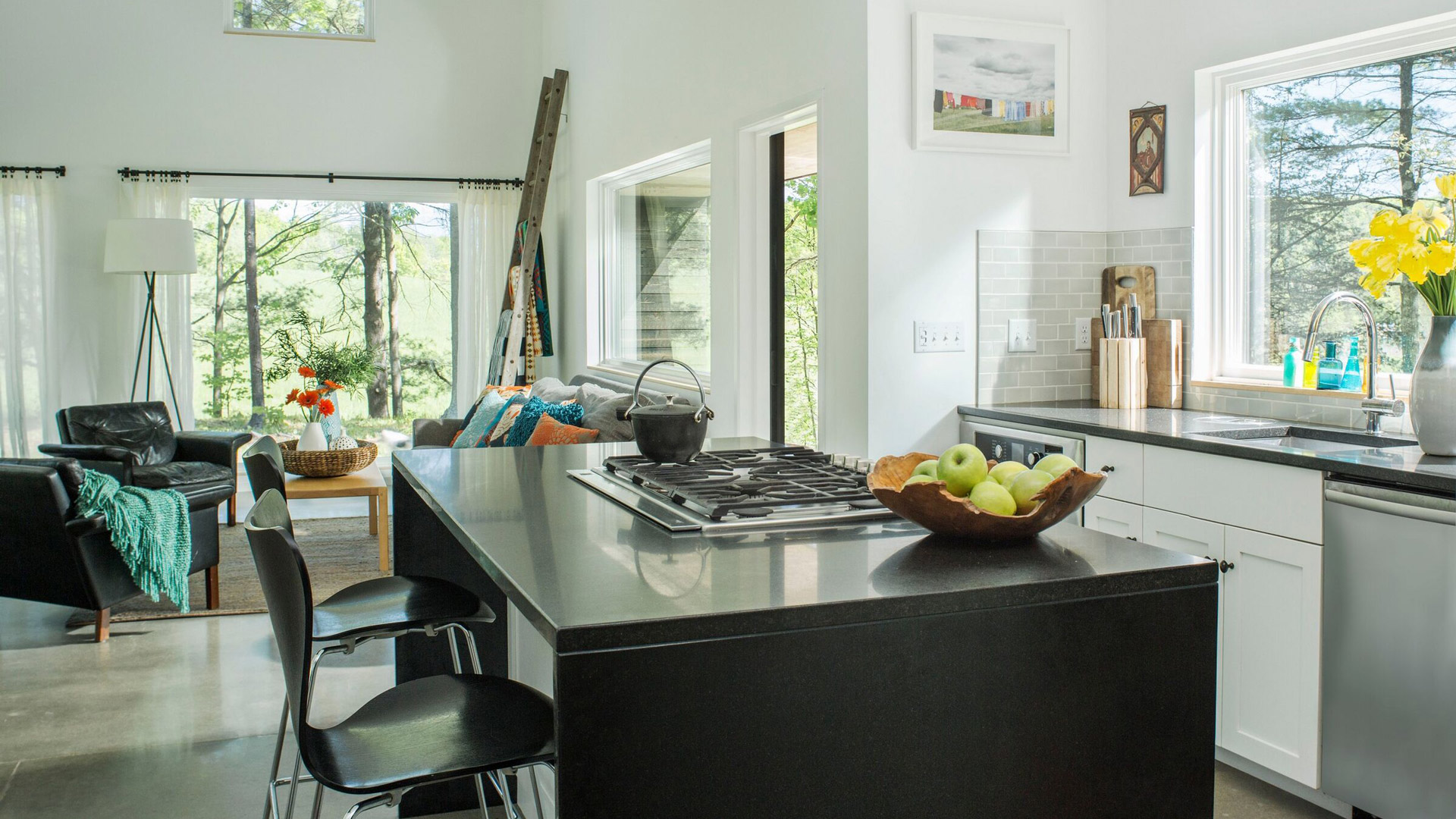 Architect: Elizabeth Herrmann, Designer: Elizabeth Herrmann, Photographer: Westphalen Photography
Architect: Guggenheim Studio