Imagine your ideal clutter-free, open-plan kitchen. Now imagine a boutique studio like Kitchens & More as its designers. This is the story of the new Baker family kitchen, whose Island, surfaces, and splashbacks feature the timeless attributes of Caesarstone Clamshell worktops.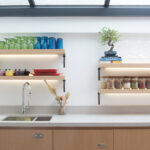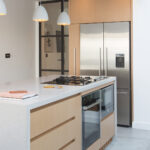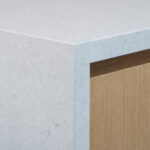 Designer: Kitchens & More
After purchasing a Victorian-terraced home in Fulham, Hannah and Toby Baker commissioned Kitchens & More to design their new large open plan kitchen. The couple imagined a modern and minimalist space that would accommodate their cooking, dining and hosting needs, without being cluttered.
The key to a clutter-free, highly efficient kitchen was to design a smart space flow. Kitchen & More designed an island unit that serves as the kitchen's main focal point, and which allows family members to cook facing forward rather than face the wall. In addition, cabinetry with ample storage was selected, eliminating any chance of disarray.
To increase the kitchen's spacious feel, roof lights were installed to bring in an abundance of natural daylight. The light effect was amplified by light gray floor tiles, which also impacted the choice of worktop colors.
The Baker family chose Caesarstone's Clamshell for its kitchen worktops. Clamshell's elegant white and light grey tones were to the family's liking – and matched the color of the new floor tiling.
But Clamshell provides more than just beauty and color compatibility. The Baker family was also impressed with its clean and strong finish. Durability also played a role in the decision-making process, as Clamshell is easy to clean and highly scratch-resistant.
Clamshell is immediately noticeable when approaching the island, which, with its waterfall edges and handle-less storage units, gives the kitchen a modern allure. Clamshell was also used for the worktop opposing the island, and the splashback that surround the walls. To complete the full aesthetic effect, gentle lighting was installed above the splashback and right below the walls shelving units.
Aligning with the vision provided by Hannah and Toby Baker, Kitchens & More demonstrated yet again how flooring, cabinetry, lighting and worktops can converge to create the ultimate modern kitchen space. Welcome to the Baker family kitchen!
"Caesarstone has the most beautiful collection of quartz colours, and when I was asked to offer a complementing colour that would work with the client's choice of tiling, Caesarstone's Clamshell immediately came to mind."
Elcio Betta, Director, Kitchens & More
The Project's Shining Star
4130

Clamshell

Mineral

A beautiful fusion of light grey with white features,
underscored by drifting veins on a neutral base.
Your project, on center stage.
If you've used our surfaces to design a space you're proud of, and want to display your project in our project gallery, please email all project images, details and credits to: [email protected]
You may also be interested in: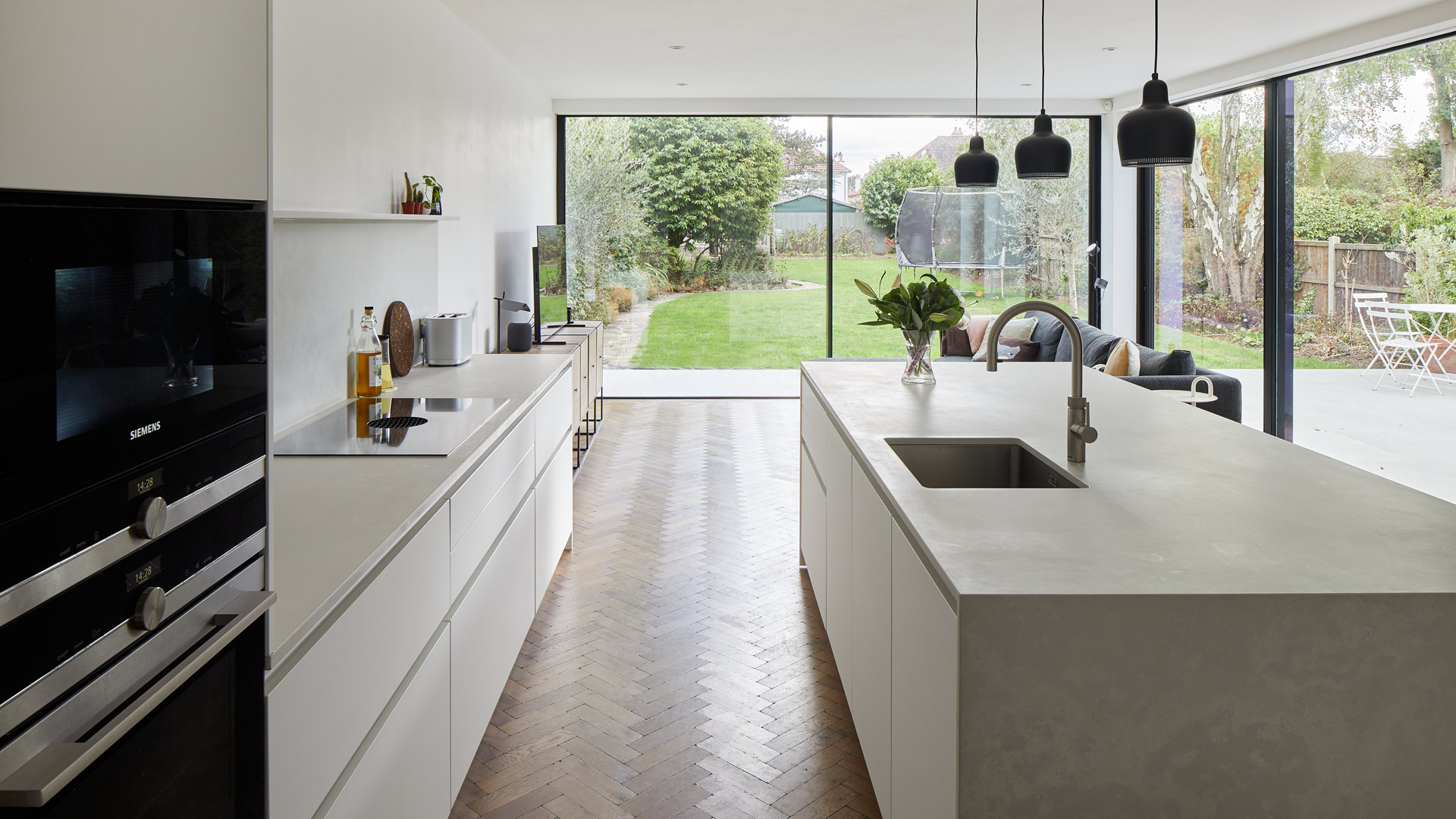 Designer: Piqu, Photographer: Chris Snook Photography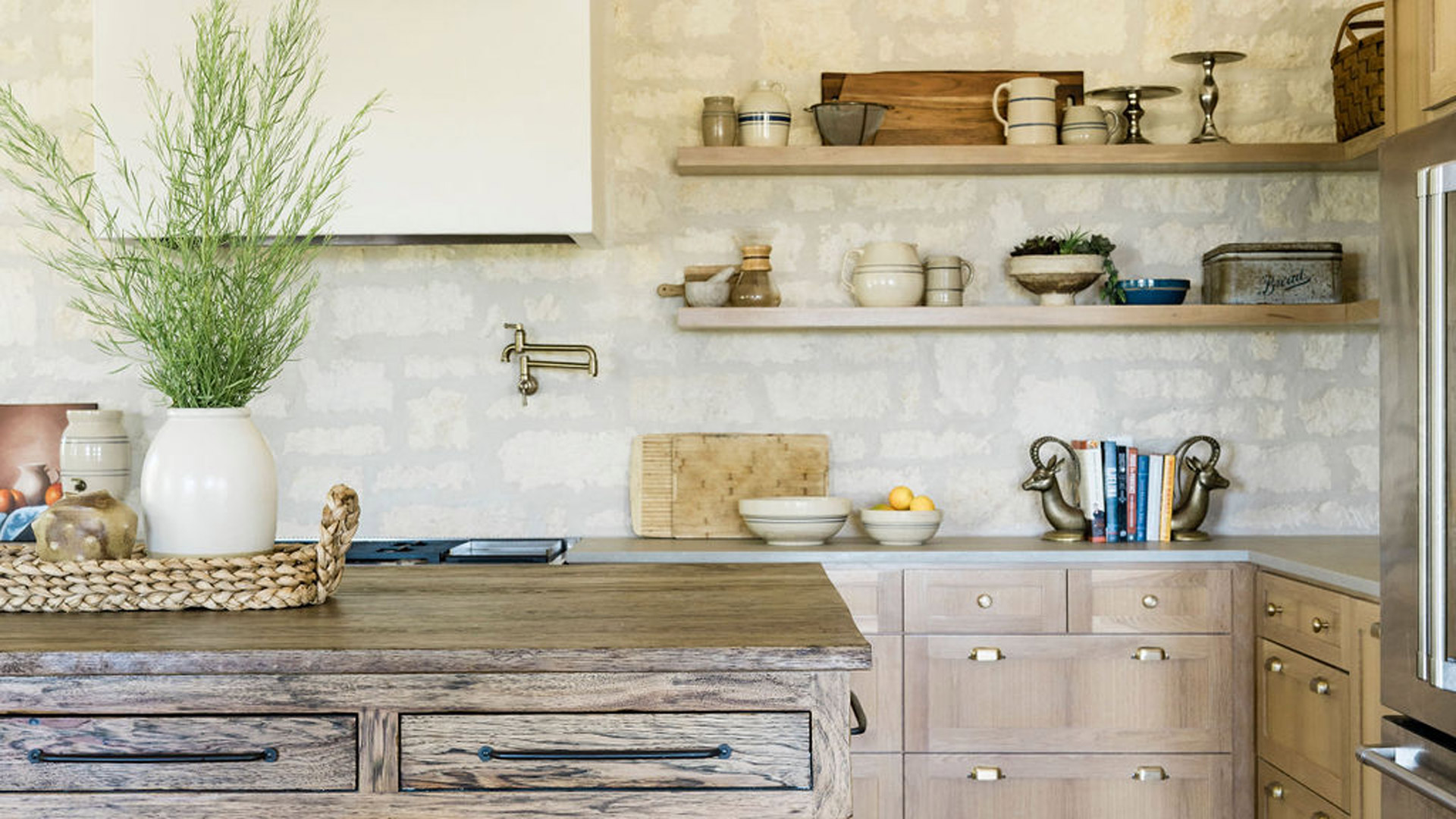 Designer: Leah Ashley Finn, Photography: Madeline Harper